Copies of Historical Glass


⟐⟐⟐⟐⟐⟐⟐⟐⟐⟐⟐⟐⟐⟐⟐⟐⟐⟐⟐⟐⟐
We are specialize in selling historic blown glassware.

These real-blown glass are blown in Scandinavia, France and Czech Republic. They are faithful reproduction of object that existed in the past between antiquity and the begining of 20th century.

The handcrafted workmanship of these glassware makes it unique. For each model of glass, it is impossible to find exactly the same glass. Variations in color, thickness are guarantees of a real arts and crafts.
Each piece is individually blown and respects the manufacturing processes of the historical period
Caution
Blown glass doesn't like dishwasher and warm liquid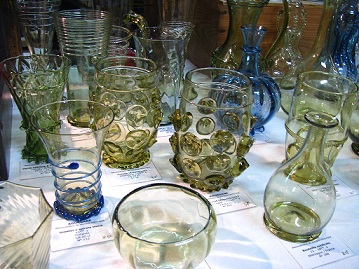 Unavailable article
As we also sell our glass on market place during the week end, we can not update the site during this time. So if you ordered a model at the same time it can happen we don't have it anymore in stock . In that case we write you an email to propose you to replace the model by another, or refund you, or wait 3 or 4 week or more according to the model.
These reproductions of historic glass plunge us into the history of glass. Although known as obsidian since prehistoric period. It is thought to have been first created around 3000 BC, during the bronze age in Mesopotamia. Glassblowing was invented during the 1st century BC. The latest research attribute the invention of blowpipes to Syria. This process comes very quickly in the Roman Empire and wins the North of Europe. Over time the skill of glassmakers get highs. Very specific models as Kutrolf (on left) leave german glassmaker centers to join the rest of Europe between the 14th and 16th century
You can get an overview of our products in the categories on the left. The glass are classified by historical periods.

We do not have a shop, we sell our glasses on medieval markets. The dates and locations of these markets are in the section "Where to find us" on right.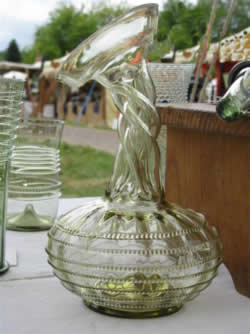 Outside Europe
If your country doesn't appear in the list, please contact us.
Transport
Some people are afraid to command glass by mail order. We want to tell them they have nothing to worry. Our interest as yours, is to be sure the glass will arrive in good state.
We protect every glass in a box with many blister pack.
We never have any problem on sending glass. If unwillingly, a glass arrive broken, you can take a photo upon receipt and send us the photo by email or by using the Contact menu. If we are not out of stock we send you free a new model, or else after 3 or 4 weeks or more according to the model.
Kourgane
9 route de la Chapelle
50390 St Jacques de Néhou
France

kourgane@gmail.com

RCS Cherbourg A 509 292 579